Surface Book Repairs
Listed below are the repairs we offer for the Microsoft Surface Book. You can tell your have a Surface Book model by downloading the Surface App from the Microsoft Store. It will tell you exactly which Surface you have. The most common repair we offer for the Surface Book is the cracked screen replacement which includes the digitizer which is responsible for touch and pen input and the LCD which is responsible for displaying the image. This will also replace the cracked glass in front of your display. If you'd like to fix your Surface Book we can help! We will expand this selection in the coming months to also include the Surface Book 2. Currently, we offer repairs on the Surface Book 1 only which have the Intel i5 6500 or i7 6600 series CPU.
The Surface Book innovated with it's fulcrum hinge which allows the device to open outward away from the keyboard. It also attaches to the base keyboard with the use of strong magnets which can be released by a key for tablet use. This convertible laptop can also connect the display reversed so it can be used to demo slides or present documents. The base also contains an additional battery in the keyboard section of the Surface Book for extra battery life. Some models also contain a graphics card for tasks that will benefit from the extra GPU crunching power.
One of the biggest selling points for the Surface Book is the 13.5" PixelSense Display with features 267 PPI and allows for 10 simultaneous points of touch. Dropping it or damaging the display can get pesky cracks or LCD problems in the way of the display. Fortunately this is a problem we can fix with the Surface Book Screen Replacement repair below.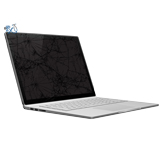 The Microsoft Surface Book Screen Replacement repair will fix cracked or shattered glass, digitizer or touch problems, and LCD or picture problems. All three of those components will be changed with new ones so your device is functioning like new again.
$599.99
$499
Ex Tax: $5.60