Frequently Asked Questions
How does your repair service work?
1. We come to you in Orange County
Many of our customers don't have time to leave their work or kids to travel and get their phone fixed. For most of our repairs, we offer a mobile service for your mobile phone - we come to you and fix your device on the spot. We can do this with most iPhone repairs and some iPad repairs. All we need is a small flat surface to work on like a kitchen counter, desk or table.
2. Come to our physical location in Mission Viejo
We have a physical storefront located in Mission Viejo close to the 5 freeway off La Paz Road and Marguerite Parkway. We are located in on the second story of the Garden Plaza across the street from the Mission Viejo Library and the police station. Our exact address is:
RxTech Repair
27001 La Paz Road
Suite 402B
Mission Viejo, CA 92691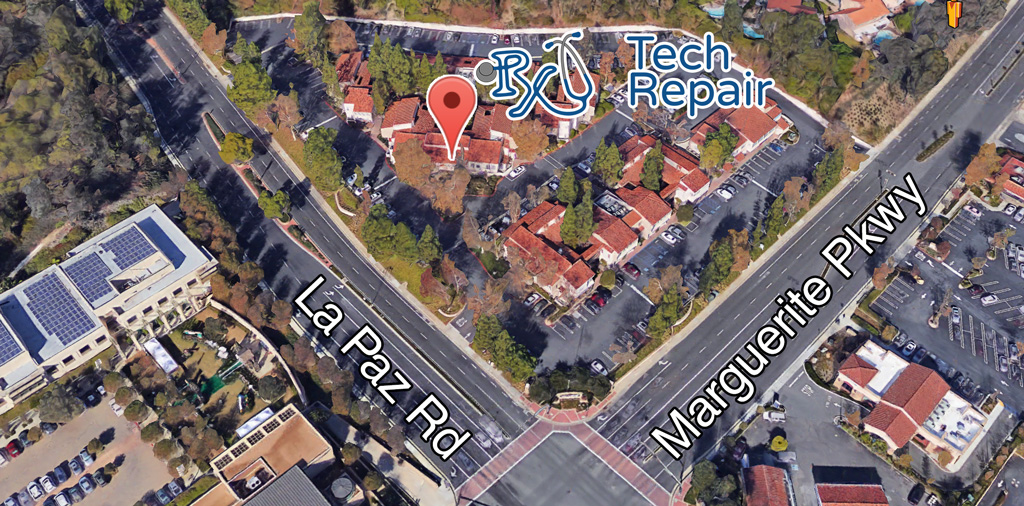 3. Ship your device to us for repair!
If you don't live in Orange County, that's OK. Call us to get a quote of the repair you need and ship your device to us. We will pay for return shipping to you. Pay via credit card or PayPal on the phone. We will fix your device in 1-2 business days of arrival and ship it back. Let us know if you need faster than standard shipping for an additional charge of $25 for Priority shipping.
iPhone Screen Replacement Repair vs LCD or Touch
The iPhone screen replacement is right for you if you only cracked your screen and nothing is wrong with the picture or touch functions. There are no imperfections in the picture whatsoever. The screen is made of the glass that covers the LCD. The LCD, or liquid crystal display is what actually shows you the image just like the LCD TV most likely in your living room.

The iPhone LCD repair is right for you if there is anything wrong with your picture display behind the glass or the touch. LCD repair is needed if there are any lines, blotches, discoloration, black spots or the display is not functioning 100%. If touch doesn't respond in all areas of the screen, the LCD needs to be replaced as well since the LCD and touch are bonded together.

Water Damage Repairs
Water damage can occur in a variety of ways. There are a number of factors that come into play with water damage. The kind of water, how long it was in contact with water and what was done afterward all make difference.
What kind of water was it?
Fresh water vs salt water makes a difference. Salt water is worse and is more corrosive due to the added ions in the water which conduct electricity
How long the device was in contact with water
The longer the device is in contact with water, the worse the chances are of recovering your data or device.
Is the device getting hot?
If you didn't turn off your device right away or plugged it in, there is a good chance there is a short in the logic board which isn't fixable. A good sign of this is if your device gets hot doing everyday tasks. We generally don't recommend fixing a device if it's showing this symptom.
What did you do afterwards?
Never charge a device that has come into contact with water. Always turn off the device ASAP and bring it to a shop that can disconnect the battery - you do not want an electric current running through a printed circuit board. Even if you turn off your phone, your battery is still connected on the inside of the device and has the potential to short circuit.
What should you do after water damage?
Turn the phone off immediately
Do not try to charge of use the phone - this puts you at a bigger risk of short circuiting your phone. Even if it has been a day, there is a good chance the inside is still not dry.
Physical damage such as but not limited to dropping the device, dropping something on the device, or putting excessive pressure on the device.
Putting your device in rice doesn't do much. You can test this empirically. Put a test tube of water in a closed container with a couple cups of rice. How much water is sucked out of the test tube? The answer is not much. What is better than rice at absorbing water? A paper towel. Get it in the hands of a technician that can physically dry out the device.
Bring it to a repair shop so a technician can disconnect the battery and dry out the device.
We do not charge you anything if we're not able to fix a water damaged device. This is why we don't travel for water damaged devices; they're not always fixable. However, if they are, we only charge $75 to get your data off the device or to backup pictures, of the iPhone. If we are able to fix the device, the $75 includes that as well. If there is more wrong with it such as a screen, the cost would be more depending on which iPhone you have.
Unfortunately with water damaged devices, we do not offer a warranty since water damaged devices behave unpredictably and sporadically. Your device may last a couple days or good indefinitely. There isn't a good way to know for sure.
We only offer water damage as a data recovery option. If your device is able to be fixed, that's an added bonus and is neither something we guarantee due to the unpredictability of water damage.
iPhone Battery Life
Many things can affect your battery life. Often times, apps running and software can run down an otherwise good battery quickly. Take a look at what is consuming the most battery life on your device. Go to Settings > Battery. This will give you a breakdown by percentage of power used. If the culprit is a rogue app using more energy than expected, great, find it and uninstall it or limit it's resources such as access to your location. If you want to absolutely be sure that a software issue is causing battery woes, backup your device to iTunes and restore the device. If it is still behaving similarly with a fresh install of iOS, then the culprit is hardware related. In the case that it is a hardware issue such as your battery is old, it steps down in percentage by a number of perfectage points instead of by 1% at a time, or just turns off way before reaching 10%, than a new battery may be what you need.
Home Button Repairs
Home button replacements are a common iPhone repair. However, since the iPhone 5S with the implementation of Touch ID, replacing a home button will retain home button navigation, but Touch ID will be lost. The fingerprint sensor will not work because each home button is made to work specifically with each logic board. This is a security measure since Touch ID can be used with Apple pay and to access the device. The home button would work to bring you back to the home screen, long press for Siri, or double tap for multi-tasking. However anything related to the finger print sensor won't work such as Apple Pay, or entering the device using the sensor.
Microsoft Surface Pro Repairs
Many of our customers don't know that Microsoft's Surface Pro devices can be repaired. While these repairs are hard, it is definitely possible. We can fix the screen, glass, digitizer, battery or LCD on most Surface Pro devices and the SurfaceBook as well. These repairs are significantly cheaper than getting your entire device replaced at the Microsoft Store. In addition, your data would still be on your device and you wouldn't have to go about installing all your programs again and loading all your pictures, movies etc.
Rear Camera Lens Repairs
One of the most common things to break is the rear camera lens on any smartphone. Whether you have an iPhone, Samsung Galaxy, LG or other device, we can replace the rear camera lens. IF your rear camera lens is cracked, chances are your camera may be taking blurry photos or not focusing properly. This repair typically can be done within an hour and restore function to your device. The best part - this is much cheaper than using an insurance deductible and we usually stock most of the rear camera lens for the most common smartphones.