iPad Pro Repairs
We offer iPad Pro Repairs for all three models. Whether you have the iPad Pro 9.7", iPad Pro 12.9" or iPad Pro 10.5", we can fix a cracked screen, touchscreen digitizer, or LCD. We have a quick turn around time of one business day in most cases. We will offer more repairs for the iPad Pro line in the coming months. We currently do not offer repairs on the iPad Pro 12.9" 2nd Generation which are denoted by model numbers A1670 or A1671 on the back.
The most common repair we offer is the iPad Pro Screen Replacement repair service. If you need a different repair on your iPad Pro and it is not listed here, don't hesitate to call, text or email us and we will provide you with a quote.
Models we work on:
iPad Pro 9.7 inch: A1673 & A1674
iPad Pro 10.5 inch: A1701 & A1709
iPad Pro 12.9 inch: A1548 & A1652

You can find the find the model number on the back of the device where it says "iPad" in big letters. The first line of smaller text underneath that will say Model A1 _ _ _. Those three numbers will tell you which iPad Pro model you have and which iPad Pro repair to purchase.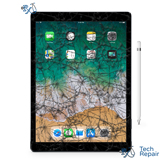 Cracked the screen on your iPad Pro? We can help. We offer an iPad Pro screen replacement repair service with one business day turn around time whether you ship your device in or you bring it in locally in Southern California..
$269.99 - $439.99
Ex Tax: $5.60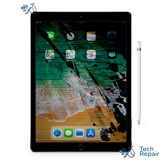 The Retina Display LCD makes text and images look sharp on the iPad Pro. The LCD is what is responsible for showing you the picture like the LCD on a flat screen TV. It is what sits behind the glass. You may need an LCD repair if your picture has color patches, no picture at all, or lines through your picture. Another indicator is when colors are fuzzy or a different color than they should be. Anything that distorts the regular picture you see may need an LCD repair.
$269.99 - $439.9
Ex Tax: $4.80